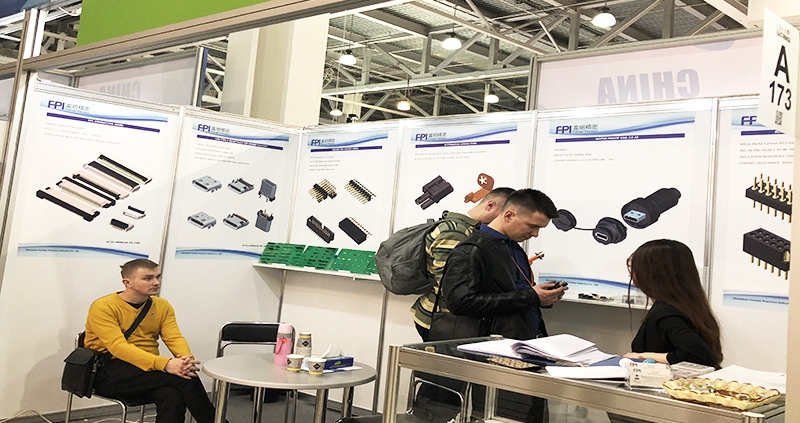 Electronica 2019 :From April 15 to 17, FPIC, a renowned manufacturer of precision electronic components, showcased its cutting-edge solutions at Expo Electronica 2019 in Moscow, Russia. The event provided an excellent platform for FPIC to demonstrate its commitment to technological advancement and customer satisfaction.
FPIC's booth at Expo Electronica 2019 attracted industry professionals, enthusiasts, and potential customers seeking innovative electronic components. The company unveiled its latest product offerings, which included a wide range of connectors, precision parts, and wire harnesses. These advancements showcased FPIC's dedication to delivering high-quality solutions that meet the evolving demands of the electronics industry.
During the event, FPIC's knowledgeable team engaged with visitors, exchanging insights and understanding their unique requirements. This interaction enabled FPIC to establish strong connections and foster valuable partnerships with customers and industry peers. The company's representatives provided in-depth technical information and guidance, demonstrating their expertise and commitment to customer support.
Expo Electronica 2019 served as an important platform for FPIC to expand its presence in the Russian market. By participating in this renowned industry event, the company demonstrated its capabilities and showcased its competitive advantages. The exhibition provided an opportunity for FPIC to strengthen relationships with existing customers and establish new collaborations, positioning the company as a trusted partner in the electronics industry.
FPIC's participation in Expo Electronica 2019 highlighted its dedication to innovation, quality, and customer satisfaction. The event's success further solidified FPIC's reputation as a leading provider of precision electronic components in the global market.
https://fpiconn.com/wp-content/uploads/2023/07/2019-moscow-show.jpg
500
800
fpiconnadministrator
https://fpiconn.com/wp-content/uploads/2023/03/logo.png
fpiconnadministrator
2019-04-15 03:26:24
2023-07-20 06:59:55
Electronica 2019 in Moscow